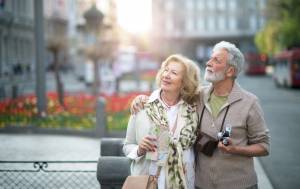 No matter what your age, travel gives you the opportunity to expand your horizons while taking a break from life's stresses. These travelling tips for seniors will help your next adventure go smoothly.
Research Your Destination
Researching your destination ahead of time can help you enjoy a stress-free trip. Familiarize yourself with the climate, language, and culture – purchasing a travel guide can be helpful. You'll also want to find out where medical facilities are located in the event of an emergency
If you have special medical needs, such as requiring a wheelchair or service animal, it's good to make prior arrangements before heading on vacation. This ensures you remain safe and comfortable throughout the entire duration of your trip. The Vancouver International Airport (YVR) also provides brochures and travel guides for those with special needs that can be downloaded ahead of time.
Check in With Your Doctor
Before embarking on a trip, visit your doctor for a complete medical exam. This is especially important for those with a history of medical problems, especially recent surgeries or chronic illnesses. If you have any health concerns that may affect your travels, discuss them with your doctor.
Medications are another critical consideration for travelling seniors. If you're on medications that must be taken at certain times, make sure you consider any time zone changes that will affect your dosage schedule. Keep in mind that some medications may be legal in Canada, but are prohibited in other countries. Pack enough medication to last the entire trip.
Pack Only the Essentials
Packing light is important for travelling seniors, who often don't want the hassle of lugging a large bag through the airport. Only carry the clothing you'll need, and roll each item tightly to create more space in your suitcase. You also may want to carry a small notebook containing important details, including maps, show schedules, and hotel information.
Before heading to the airport, make sure your carry-on bag includes all the items you'll need during the flight. This might include a medical kit with antacids, Band-Aids, or painkillers, and a pillbox with your daily medication. An extra pair of reading glasses and a book are also excellent items to include. And don't forget to consider the suitcase itself – luggage with wheels is much easier to transport through the airport.
With these helpful ideas, you'll enjoy a stress-free voyage to your chosen destination. Be sure to check out Part 2 of our Travelling for Seniors series for even more tips and tricks.