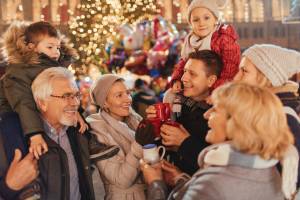 The holidays are a fun and joyous time for many of us, but this isn't always the case for seniors. According to a study from the Statistics Canada, almost a fifth of seniors lacks regular social interaction. Decreasing energy levels and mobility along with the loss of friends and loved ones contributed to the feelings of isolation.
Seniors who are already experiencing feelings of loneliness are especially vulnerable during the holidays, which focus on togetherness and connecting with loved ones. Fortunately, there are things that everyone can do to help Vancouver's seniors enjoy a happy holiday season. Reach out to the seniors in your life with these simple tips.
1. Share Memories
Seniors have a lot to teach us, and one of the best ways to gain some of their wisdom is to share memories. Revisiting lighthearted memories is a great way for younger family members to connect with older relatives and learn what it was like "back in the day." Remember, many seniors experience memory loss, so be mindful when telling stories or rehashing past events. If your senior family member doesn't remember the details of a story, politely refresh everyone's memory without singling him or her out.
2. Extend an Invite
If you know seniors in your area who live alone, consider sending them an invite to your family get-together. Simply inviting a senior to a holiday meal can help them feel included and less disconnected from others.
3. Monitor Medication
During the busy holiday season, it's easy to miss a dose of medication or drink a little too much. Keep an eye on senior family members and friends who are celebrating with you by making sure their medications are taken correctly. Also be mindful of alcohol consumption, as drinking too much can have an effect on some medications and health conditions.
4. Plan a Holiday Outing
Seasonal activities are a great way to spread some cheer to the elderly loved ones in your life. Neighborhood Christmas light displays, like the VanDusen Festival of Lights, feature paved paths that are accessible for wheelchairs. If your friend or family member loves to shop, consider visiting the Vancouver Christmas Market for a variety of seasonal sweets and treats.
5. Be Mindful of Depression
If you suspect a senior loved one is experiencing depression, don't ignore it. Spend time with elderly friends and family members, and consider connecting them with social resources like meal delivery services and senior centres.
Remember, senior isolation is not inevitable or irreversible. Knowing the facts about senior isolation and including your senior loved ones in family festivities can help spread cheer this holiday season.